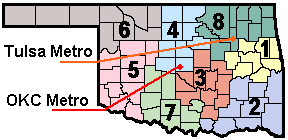 ---
To see a detail map showing current construction sites, click in the map area and metro name or its corresponding Division number and metro name on the left bar. The information is also available in Adobe PDF format which requires an Adobe Reader.
---
Only major construction projects are shown.
---
Information contained on this website is based on approximations available. Other factors may delay, extend or interrupt work on projects beyond published completion dates. Not all projects are represented here. Short term jobs and projects that do not significantly affect traffic flow are not included.