The State Road System and Federal Aid

After 1910 civic groups, good roads association, engineering societies, and the state hughway commission comprised a strong and persistent force calling for increased spending on highway and bridge development. Likewise more of the public became aware of the contributions better transportation made to economic growth, not just for traditional activities such as farming, but to the expanding towns and cities and to the emerging oil industry. Sidney Suggs used his first opportunity as highway commissioner in January, 1913, to lay out a plan for major highways across the state, all of which would be developed in time.26

Main Line No. 1--State line north of Newkirk through Ponca City, Perry, Guthrie, Oklahoma City, Norman, Purcell, Pauls Valley, Sulphur, Ardmore and Marietta to a point on the Red River north of Gainsville, with additional lines from Sulphur through Mill Creek, Belton and Mil-burn, intersecting Main Line No. 5 at Durant.
Main Line No. 2--Extending East and West across the state through Muskogee, Okmulgee, Okemah, Oklahoma City, El Reno, Geary, Weatherford to Texas state line.
Main Line No. 3--Chisholm Trail, from Caldwell, Kansas, through Medford, Enid, Kingfisher, El Reno, Chicasha, Duncan, Waurika to Red River.
Main Line No. 4--Mid-Continent Highway from Caney, Kansas, through Bartlesville, Tulsa, Sapulpa, Okmulgee, Holdenvill, Calvin, and Coalgate to Atoka.
Main Line No. 5--From state line north of Miami through Vinita, Pryor, Wagoner, Muskogee, Checotah, Eufaula, McAlerter, Atoka and Durant to the Red River north of Denison.
Main Line No. 6--From Kansas state line through Beaver, Buffalo, Woodward, Taloga, Arapahoe, Clinton, Cordell, Hobart, Synder, Frederick and Grandfield to the Red River bridge north of Wichita Falls.
---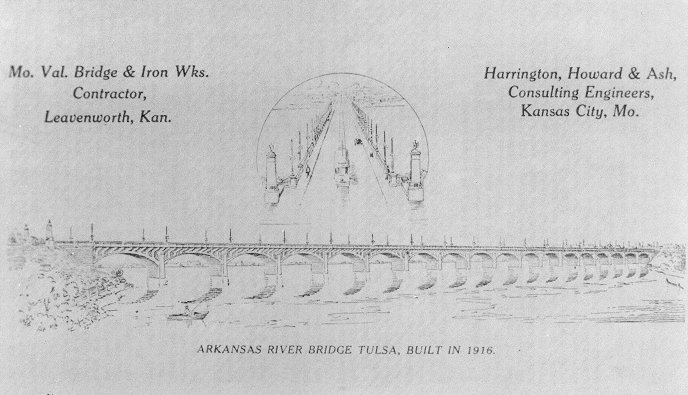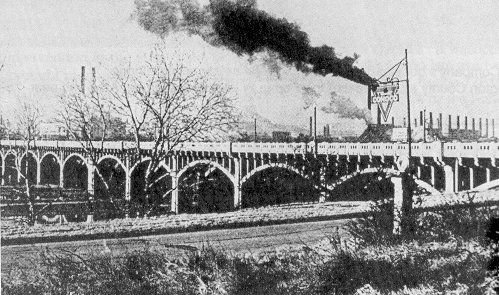 Figure 19. The designers and builders of the 11th Street Bridge at Tulsa provided the sketch to the state engineering society.



Figure 20. Tulsa-s 11th Street Bridge appeared during the 1930s.
---
Tulsa took an important first step in providing government support for major projects when city and county cooperated to build an impressive concrete, open spandrel arch bridge across the Arkansas River in 1916. Designed by the wellknown Kansas City engineering firm of Harrington, Howard, and Ash and built by the Missouri Valley Bridge and Iron Company, the structure was the state-s first great highway bridge, meant to be an attractive and permanent fixture in the city with its eighteen spans set on piers sunk to bedrock. Known simply as the 11th Street Bridge (Figure 19), it had pedestrian walkways extending from both sides and a depressed center lane for use by the street railway. In 1935 a New Deal public works project removed the top deck and widened the roadway, but left the graceful arches undisturbed (Figure 20).27
Monumental bridges were not the concern of most counties. Rather in the "intense campaign of bridge construction" that followed statehood (1907), county officials concentrated on the more modest task of spanning the small creeks and streams in their locality. Looking back from 1930 and taking a critical tone, the Highway Commission described the process and typical ways counties went about conducting bridge matters in earlier years:
Bids were usually received for a complete or "turnkey" job with the bidder furnishing the plans and specifications. This method of awarding construction work led to a variety of designs and construction methods. The structures were very light as compared with the standards of today. The sub-structures for the small bridges were either steel or wood piles, while for the larger ones small tubes were used. Super-structures were usually either light I-beam spans or pin connected trusses.28
---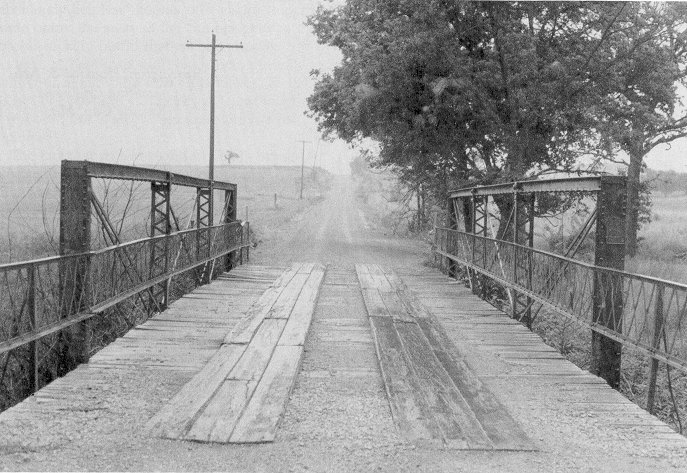 Figure 21. Rochester Bridge Company"s bedstead retains an old-style safety railing. Bridge 74N4010E0030002 in Washington County stands east of the Copan Wildlife Management Area near the Kansas state line.


---
In deciding on lightweight steel bridges many Oklahoma counties purchased truss leg bedsteads, most often in Pratt designs, but some Warren bedsteads as well. Supplied as a standard type by the major bridge builders, including the Canton Bridge Company and the Rochester Bridge Company of Indiana, this samaa pony truss had vertical rather than inclined end posts that, by extending below the bottom chord, permitted it to support itself on the truss legs. Besides being inexpensive to buy and quickly erected on the site, the bedstead needed only minimal attachment to the streambank and so spared the counties the cost of building abutments (Figure 21).
Eastern counties particularly experienced difficulties in building sturdy foundations. Bridge engineers in the highway department tended to see the state divided in half, in historical terms the dividing line would follow the tracks of the Sante Fe railroad running through Ponca City, Oklahoma City, and Ardmorem, or in a modern context, would roughly follow Interstate 35 through mid-state. The underlying rock of the western



Figure 22. A washout reveals the typical concrete filled cylinders used as piers to support early truss bridges. Bridge 17E1961N2640002 is a 1913 Pratt truss built by the Kansas City Bridge Company.


---

streams proved easier to reach and more stable for foundations than the boulderstrewn and jagged rock ledges encountered in the east.29 Whenever conditions permitted, both county and state projects commonly supported their truss bridges with steel cylinders or tubes--occasionlly described by their trade name lally columns--driven to bedrock and filled with broken rock or concrete (Figure 22).
A new era for road and bridge building opened in 1916 when congress, after more than twenty years of tentative steps in this direction, passed the firstFederal Aid Road Act. The law appropriated $75 million to be spent over five years, the states matching the federal money dollar for dollar and being required to seek prior approval for projects from the U. S. Bureau of Public Roads. A total of $690,834 was slated for Oklahoma for fiscal years 1917 to 1919. At the same time the Oklahoma legislature established a state aid program to make grants to the counties on the basis of a fifty-fifty match.30 But these programs barely got underway before American intervention in the First World Was in 1917 brought most projects to a standstill. While planning continued and smaller projects were completed or initial steps taken on new jobs, disruptions during 1918 in the supply of building materials, particularly steel, and a shortage of manpower meant that most construction was deferred until the end of the war.
Despite these circumstances some notable developments occurred during the late teens before Oklahoma could feel the impact of federal aid. Even as it complained about excessive politics and the absence of technical expertise at the county level, the state engineer's office found some projects worthy of praise. The department approved of many stone and concrete arch spans being built to state specifications, of some "very credible" bridges placed in overflow areas, and of "much heavier and for more stable" trusses being installed than in former years.31 The better structures reflected the willingness of bridge companies to accept state standards and submit their plans for prior approval, but it may also indicate the degree to which private companies participated in drafting those new state bridge specifications. On the whole, State Engineer Max Cunningham believed that the quality of work on bridges in 1919 was a "great deal better" than for building roads.32
One of the more significant projects at the time involved gangs of convict laborers, mainly composed of black prisoners from the state penitentiary at McAlester, who extended the Jefferson Highway, a road that streched from Canada to Mexico and was designed by markers put along the roadside by a private highway association. The Oklahoma portion ran through eastern parts of the state. The convicts, directed by skilled supervisors and perhaps working with private contractors, built numerous "splendid" stone and concrete arch bridges.33 Their work included an unusual structure for this state, a concrete rainbow arch or "curved-chord truss" (Figure 80), built on what was designated the Williams Highway between Tecumseh and Shawnee.

---



Figure 23. Official road map issued by the State Highway Commission of Oklahoma.

---


Elsewhere, highway department engineers recognized the value and importance of a private toll bridge constructed on the Jefferson Highway as it crossed the South Canadian River at Eufaula.34 It revealed the challange sometimes faced by companies which built bridges in eastern Oklahoma. In this case, the Midland Bridge Company of Kansas City reportedly lost $60,000 on the project when forced to dig fifty feet down before reaching rock sufficiently good on which to set its piers. For a long time one of the state's most impressive structures, this through truss, nearly one-half mile long, was purchased by the highway department in 1928 and maintained as a critical link on U. S. 69 until 1939.35
The state encountered various problems associated with the transition to federal aid programs. Some of the difficulties related to the new rules and regulations set by the U. S. Bureau of Public Roads and others to the requirement that the state assume greater authority over county highway projects. In many ways the Oklahoma experiance was no different than that of other states. Political wrangling and bureaucratic infighting, worsened by poor legislation, inadequate revenues, and occasional incompetence, handicapped the highway department until reform and reorganization occurred in 1924 and made some basic improvements. Thus, in the early 1920s, although a welcome source of funds, federal aid did not always achieve its principal purposes. Grants went to those counties whose tax policies or economic base produced the funds sufficient to meet match requirements, not those places most in need.36 This set of circumstances particularly affected the sparsely-populated western counties where only a single federal aid bridge was built in this period. That one took "considerable sacrifice," said state bridge engineer Burnham, forcing Woods and Woodward counties to save for two years before constructing in 1922 a 290-foot concrete girder bridge to span the Cimarron River at Freedom.
Problems also plagued Federal Aid Project (FAP) Number 1, planned in 1917 as an eighteen span concrete arch bridge over the South Canadian River near Newcastle, south of Oklahoma City. Meant to be a prominent and attractive structure, fitting its role as a link on both the Ozark Trail and Meridian Highway which ran through the state capitol and on to Texas, the project foundered when the highway commission discovered that the contractor had "thrown up this and several other jobs and left the country with all the assets he could realize." Delays caused by the war and poorly drafted plans for the foundations added to the frustration. Finally, the Missouri Valley Bridge Company, a builder of good reputation who also specialized in major projects, completed the Newcastle Bridge in 1923: a ten span Parker through truss, measuring more than 2,200 feet in length (Figures 24 and 25).37

---





Figure 24. The Newcastle Bridge, Oklahoma"s first federal aid project, was opened in 1923.


Figure 25. A view of the Newcastle Bridge as it appeared in the 1940s.


Figure 26. The Calvin Bridge formed an important link on the developing road system of the early 1920s.


Figure 27. A new bridge, particularly a major one, became a reason for celebration. This structure was the first to span the South Canadian River at Taloga, Dewey County. Undated. (Western History Collections, University of Oklahoma Library)


Figure 28. The Parker through trusses of Bridge 49E0420N4400003 over Lake Hudson at Strang.



---
Of the first twenty federal projects in Oklahoma, about one-third of them were for bridge construction. The state assigned priority to putting spans across the major rivers on routes that carried interstate traffic. One important enterprise fitting this purpose was Federal Aid Project No. 16, the Calvin Bridge (Figure 26), opened in 1922 amid great fanfare that included bands, barbecues, speeches, and athletic contests. Inaugurating a new bridge was commonly a cause for celebration by Americans in those years who saw the structure as evidence of their progress and betterment (Figure 27). The Calvin Bridge, erected in 1921 alongside two railroad bridges, carried the Postal Highway over the South Canadian putting the structure on the main route between Little Rock and El Paso. Consisting of four 190-foot Parker through trusses anchored to concrete piers, the bridge again illustrated the capabilities of its contractor the Missouri Valley Bridge and Iron Company of Leavenworth, Kansas. As occasionally happened, however, the bridge waited to open for more than a year while Hughes County raised the money for earth and timber approaches connecting it to the highway.38 Under better circumstances, the state added other big bridges. In 1922, the Union Bridge Company of New York City finished a six span Parker through truss across the South Canadian at Asher, and further east on the same waterway at a place called Whitefield Ferry, the Virginia Bridge and Iron Company in cooperation with Missouri Valley completed another multiple span Parker. The Vincennes Bridge Company of Indiana erected four Parker spans across Lake Hudson in 1922 (Figure 28), affording an important link to trade east of Tulsa, and in 1924 it completed a 2,800-foot structure, also consisting of Parker trusses, on the Arkansas River at Webbers Falls, southeast of Muskogee.39 Accounting for its popularity by the 1920s, as evident in Oklahoma, was the Parker"s usefulness for big bridges. Its curved-chord design was readily mass manufactured and needed relatively few adjustments, those mainly in the end panels, for use at many different sites.
Despite the numerous projects, demand for new bridges outstripped the state"s capacity to build them, thus leaving an opportunity for private toll bridges. During the 1920s the last suspension and toll bridges were built in the state, several appearing across the Red River as investors sought to profit from the upsurge in oilfield traffic between Oklahoma and Texas. In 1921, a business group put a major suspension bridge across the Canadian River near Bridgeport (the name derived from nearby railroad bridges) on an important road called the Postal Highway. Promoters of this "Key Bridge" also chose a suspension design because of its lower cost and advantage where quicksand and flooding presented problems. The monopoly this bridge enjoyed came to end in 1933 when a state project with the Kansas City Bridge Company erected a thirty-eight span camelback bridge--toll free--on U. S. 66 (Figures 29 and 30).40
---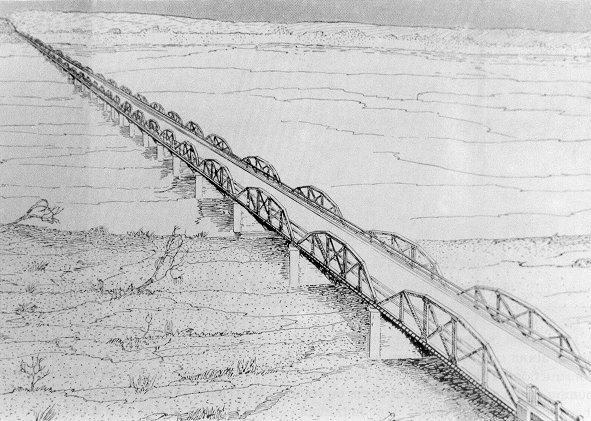 Figure 29. Thirty-eight span camelback spans in Bridge 0902 0000 X cross the South Canadian River on old Route 66 near Bridgeport.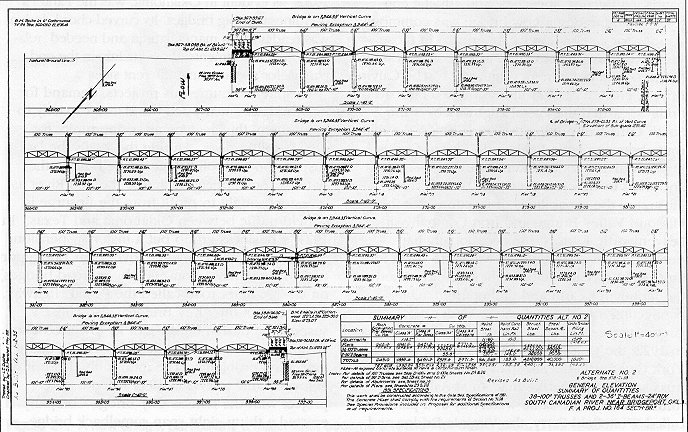 Figure 30. The ODOT specification sheet illustrates the impressive size of Bridge 0902 000 X.